Spring Brook

,

New York

Lawyers
Find Spring Brook, New York Lawyers by Practice Area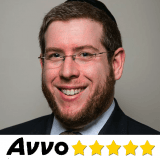 East Aurora, NY Lawyer.
41 years experience
Employment, Insurance Claims, Legal Malpractice and Personal Injury

State University of New York - Buffalo
Orchard Park, NY Lawyer.
20 years experience
Appeals, Arbitration & Mediation, Construction and Insurance Claims

State University of New York - Buffalo
I help businesses avoid and litigate disputes. I also handle civil appeals.
Social Security Disability and Workers' Comp

West Seneca, NY Lawyer.
18 years experience
Bankruptcy, Criminal, DWI and Traffic Tickets

Stephen K. Underwood is a Buffalo New York lawyer that practices in the New York State and Federal Court systems. Mr. Underwood is a graduate of the Binghamton University School of Management with a concentration in Finance (B.S. 1992) and obtained his Juris Doctorate from OCU School of Law in 1997. Mr. Underwood was duly licensed and admitted to practice law in the State of New York in 1998.
Hamburg, NY Attorney.
33 years experience
Free Consultation
Appeals, Bankruptcy, Business and Criminal

New York Law School
We chose to remain a small law office to provide personal, dedicated and aggressive service to our clients. My office costs a few dollars more but excellent service takes time and strategy. Offsetting our higher fees we have payment plans. We have seven lawyers working together to get the best solutions. As a small firm we call upon all areas of the law to form a comprehensive strategy and plan. As in a game making the right move determines the outcome of the case. A divorce case is often helped by a bankruptcy or our tax law knowledge. We create...
Buffalo, NY Attorney.
33 years experience
Free Consultation
Criminal, DWI, Domestic Violence and Family

Gonzaga University School of Law
I have been a criminal lawyer for 30 years and have practiced in Buffalo, Manhattan, Niagara Falls, and many other cities in New York State. I was one of the first lawyers in the state chosen by a panel of judges to handle capital murder cases and have handled some of the biggest criminal cases in New York for the last 30 years. I am a CLE criminal law instructor and have taught criminal law to the judges, prosecutors, and lawyers in New York for the last 20 years. I am one of the very few lawyers to have achieved...
Depew, NY Attorney.
12 years experience
Criminal, DWI, Estate Planning and Traffic Tickets

State University of New York - Buffalo
Michael T. Dwan, Esq. of The Law Office of Michael T. Dwan, Esq. is a Buffalo criminal defense lawyer dedicated to fighting for the rights of the criminally accused. Mr. Dwan has a decade of legal experience and has helped countless New Yorkers. He understands how serious the consequences of a criminal charge can be, and he is fully committed to the provision of diligent legal services. His firm also handles matters involving real estate, estate planning and personal injury. Mr. Dwan received his undergraduate degree from Niagara University, and got his J.D. from the University at Buffalo Law School....
Lancaster, NY Lawyer.
16 years experience
(716) 601-1000
5511 Broadway Street
Lancaster, New York USA


Lancaster

,

NY

14086
Free Consultation
Business, Divorce, Immigration and Real Estate

Founded in Upstate New York, Konst Law serves clients in from Manhattan to Los Angeles, California, as well as international clients seeking to invest in businesses in the United States. The firm provides corporate, real estate, and business legal services, as well as investment immigration assistance. The experienced lawyers at Konst Law have successfully counseled a wide variety of clients in matters ranging from starting a company to attaining immigration goals.
Buffalo, NY Attorney.
12 years experience
Free Consultation
Divorce and Family

SUNY Buffalo Law School
Attorney Charles A. Messina is a native of Buffalo who has devoted his career to matrimonial and family law. He graduated from the University of Buffalo Law School (SUNY) in 2004 with honors and established his own family law practice in November of 2009. Today, Attorney Messina is recognized for his reputation as a knowledgeable resource on the topics of divorce, child custody, and family court proceedings.
Cheektowaga, NY Lawyer.
5 years experience
Free Consultation
Bankruptcy, Estate Planning, Real Estate and Tax

State University of New York - Buffalo
We offer quality legal representation along with the personal attention your case deserves. Our firm focuses on areas of real estate, bankruptcy, estate planning & tax law. We understand that each client's case is unique and promise to devote our expertise and attention to getting you the results you deserve and expect.
Lawyers in Nearby Cities
Lawyers in Nearby Counties