Truck Accidents Legal Center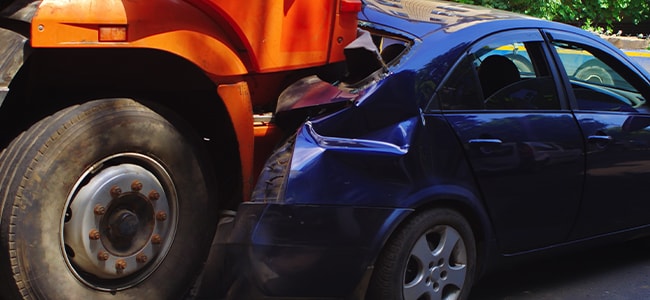 Certain factors in truck accidents may set them apart from other motor vehicle collisions. For example, the disparity in weight between a commercial vehicle and a passenger car greatly increases the risk of catastrophic injuries. These may lead to permanent disabilities that affect a victim on personal and professional levels. Costs resulting from truck accidents thus may mount rapidly. With so much money at stake, these cases are often fiercely contested by defendants and insurers.
Truck accident lawsuits tend to be more complex than some cases involving ordinary car accidents. Many parties beyond an individual driver may have contributed to an accident, such as a trucking company, a truck manufacturer, or a company that loaded or maintained the truck. A detailed investigation may be necessary to uncover everyone who was at fault. Moreover, the trucking industry is heavily regulated at federal and state levels. An investigation into a crash may uncover a violation of a regulation, which may help prove fault.
Types of Truck Accidents
Many truck accidents are defined by the motion of the truck or the nature of the impact. Jackknife accidents occur when a trailer swings to the side at a 90-degree angle from the truck cab, while rollover accidents involve a truck flipping onto its top or side. An accident in which a truck runs over a passenger car is known as an override accident, while an underride accident occurs when a car slides under the side or rear of the truck. When a truck making a turn crushes a passenger car to its right against a curb, this is called a squeeze play. As with any other motor vehicle collision, a truck accident may involve a head-on or rear-end collision, a side-impact collision, or a sideswipe.
Some types of trucks pose distinctive risks to people around them. These include tanker trucks that may be carrying hazardous materials, flatbeds that may be transporting poorly secured loads, or delivery trucks that may stop abruptly when reaching a destination or make a sudden turn to avoid the delay caused by missing a turn. Other trucks that may be involved in accidents for unique reasons or in unusual ways include:
Construction trucks
Cement trucks
Garbage trucks
Tow trucks
Rental trucks
Ambulances and fire trucks
Causes of Truck Accidents
Although they are called "accidents," most collisions involving trucks could have been prevented through proper care in making, operating, inspecting, maintaining, and loading the truck. Accidents often result from improper behaviors by truck drivers, such as drowsy, distracted, or intoxicated driving. Sometimes inadequate training or experience causes an accident when a driver fails to execute a maneuver competently. Trucking companies also have certain obligations to put safe drivers and vehicles on the road. Manufacturers need to devise safe designs for trucks and their components, and they may be held accountable for any errors during the manufacturing and assembly process.
Other causes of truck accidents include overloading a truck or failing to secure the load so that cargo does not fall off the truck. Sometimes a truck accident results from incompetently performed repairs by a truck maintenance company, which allow a safety hazard to persist. In rare cases, a poorly designed or maintained road may cause a truck accident even when the driver operates the truck safely.
Injuries in Truck Accidents
Not every injury arising from a truck accident is immediately apparent. A victim should get medical attention as soon as possible, even if their symptoms do not seem significant. This can reduce the risk of serious, potentially life-threatening complications. Some injuries are especially likely to cause permanent disabilities, such as brain trauma, spinal cord damage, or the loss of a limb. A victim may be more likely to recover fully from certain other injuries, such as soft tissue injuries and broken bones, but these still may cause significant pain and lead to a long recovery.
The psychological trauma of a truck accident should be taken seriously. A victim may suffer from PTSD or more generalized conditions such as depression or anxiety, which can require treatment and medications as well. Often, the psychological effects persist long after any physical injuries have resolved, affecting quality of life, work performance, and interactions with others.
Truck Accident Lawsuits
In addition to the physical and emotional effects of a truck accident, a victim and their family may sustain financial pressure. Bills for hospitalizations, surgeries, therapies, medications, tests, and other medical care may pile up during a time when a victim cannot go to work and earn a salary. If someone else may have been at fault for the accident, a victim should consider bringing a lawsuit against that person or entity. They likely would need to prove that the defendant failed to act with proper care in the situation, and this caused the accident. (A distinctive standard may apply in a case against a truck manufacturer or a government entity.)
If they prevail in a claim, a victim can potentially recover economic and non-economic damages. Economic damages account for the financial costs related to the accident, such as medical expenses, lost income, property damage, and any future expenses related to medical treatment or lost earning capacity. Non-economic damages account for intangible harm, such as the pain and suffering and emotional distress that a victim experienced. People who tragically lost a loved one in a truck accident can recover damages for their loss of financial support and the intangible benefits of their relationship with the victim.