Family Law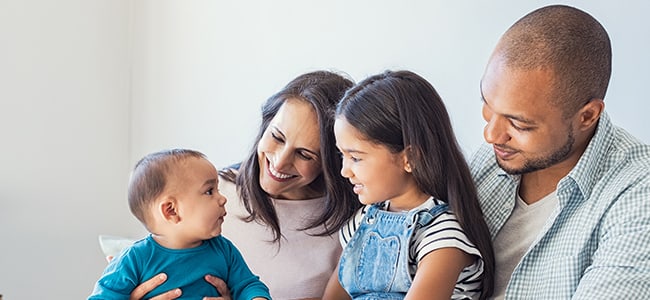 Family law concerns the rights and obligations of spouses, children, and other domestic relations. City, state, and federal laws all can affect families in a variety of ways. According to the U.S. Census, the typical structure of American households has been changing. For instance, from 1970 to 2012, the percentage of households composed of married couples with children under 18 fell by half from 40 percent to only 20 percent of all households.
Unfortunately, many marriages end in separation or divorce. When a couple decides to dissolve a marriage, one of the spouses will petition the court for a divorce. This means that the court can legally end the marriage, divide marital assets between the spouses, grant custody of any children to one or both spouses, and impose child and spousal support obligations, if applicable.
Before, during, and after a marriage, state (and sometimes federal, and even international) law may affect families. Discover answers to some frequently asked questions about divorce, child support, custody, and visitation, or keep reading for some basic information.
Premarital Agreements
Generally, courts will either apply community property laws or equitable distribution laws when dividing marital property, depending on whether the court sits in a community property or equitable distribution state. In community property states, such as California and Texas, a court will divide community property 50/50 between the couple. In equitable distribution states, such as New York and Florida, a court will divide marital property equitably, which may or may not be 50/50. If the couple holds marital property in both types of states, the court will have to determine which property division laws apply to each piece of property.
Couples who wish to establish their own property division rules may set up their own formulas before marriage by using a premarital agreement, also known as a prenuptial agreement. Spouses commonly structure their financial affairs in a premarital agreement if they wish to manage their assets separately or provide for children from a prior marriage, or if they have significantly different levels of assets or income. It is also a useful way to protect spouses from liability for each other's debts, and it may reduce tension if a marriage eventually dissolves by determining in advance the financial rights of each spouse.
If you choose not to make a premarital agreement, a court will decide how to divide property acquired during your marriage upon divorce or death. In some cases, the court may even decide what happens to some of the property that you held before marriage. You might not be satisfied with the court's decision, so it may be worth the time and effort to craft a premarital agreement.
There are some limits on what a premarital agreement can do. For example, you cannot make a premarital agreement that limits child support or custody or visitation rights. Certain other requirements must be met for a prenuptial agreement to be found valid and enforceable. However, courts are increasingly willing to uphold these agreements, moving away from their traditional skepticism toward them. This means that each spouse should consult a separate lawyer before the agreement is finalized to make sure that his or her rights are protected.
Child Custody and Child Support
Courts generally prefer to grant legal and physical custody over any children from a marriage to both parents. Legal custody means a parent has the right to make significant life decisions for the child, such as those concerning education, health, and religion. Physical custody means a parent has a right to have the child live in the parent's home. When a court awards a parent sole physical custody, however, it may also award the non-custodial parent visitation rights to see the child at regular intervals.
To calculate child support payments, courts will look at the factors outlined within the state's child support laws. These may include each parent's income, whether one parent is paying alimony to another, the child custody arrangements, the parent's standard of living, and any health, medical, or educational expenses. If you move to a different state, there is no need to worry about keeping the arrangement. A court in any state will uphold a child custody arrangement crafted by a court in any other state.
Divorce Mediation
The end of a marriage is a stressful time for each spouse, any children, and other people close to them. However, the spouses do not have to allow the stress or any lingering bitterness towards each other to poison the divorce process. If the spouses can negotiate in good faith, mediation may represent a more civil, less expensive, and less adversarial way to dissolve a marriage. A neutral mediator can try to balance each spouse's needs in helping them divide the marital assets, resolve any child custody issues, and settle on child and spousal support amounts. The mediator will work with the lawyers of each spouse as well to make sure that the arrangement is satisfactory to both spouses.